ACR1252U - NFC Reader/Writer P2P with SAM
As low as 41.05€/pz. for 20 pieces . Learn more


NFC Forum Certified Reader. PC-linked contactless smart card and NFC Tags reader/writer, developed on the 13.56 MHz contactless technology.
Volume discounts
| Quantity | Discount | Unit Price |
| --- | --- | --- |
| 5 | 33.51% | 45.88 € |
| 10 | 37% | 43.47 € |
| 20 | 40.51% | 41.05 € |

Do you need a larger quantity? Did you find this product at a better price? Contact us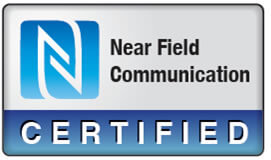 ACR1252U is a contactless reader and writer, produced by ACS Advanced Card Systems Ltd., capable of the 3 modes of NFC, namely:
NFC Reader/Writer Mode
Card emulation Mode (HCE)
Peer-to-peer Mode (P2P)
ACR1252U, also known as USB NFC Reader III, is an NFC Forum Certified Reader. It is also equipped with SAM slot, for payment or other applications that require secure element.
OS Compatibility

Windows (98, ME, 2000, XP, Server 2003, Server 2008, Vista, 7, 8, 10)
Mac OS 10.5 and above
Linux
Android (3.1 and above)

NFC Compatibility

ISO/IEC 14443-3 Type A & B
ISO 18092
NFC Forum types 1-4
NTAG®
FeliCA
NXP MIFARE Classic® 
NXP MIFARE® DESFire® 
NXP MIFARE Plus®
NXP MIFARE Ultralight®

Application Programming Interface

Compliance / Certifications
NFC Forum, FeliCa Performance Certification, PC/SC, CCID, LASCOM, EN60950/IEC 60950, CE, FCC, VCCI, MIC, KC, RoHS 2, USB Full Speed, Microsoft® WHQL
Operating Frequency
13.56 Mhz
Read/Write speed
up to 424 kbps
Read/Write distance
up to 50 mm (depending on Tag's antenna)
Operating Temperature
0 - 50°C
Dimensions
98 x 65 x 12.8 mm
Weight
81 grams
Peripherals

User-controllable bi-color LED
User-controllable buzzer
SAM Slot
USB 2.0 cable
Softwares and Drivers
We sell the hardware only. About software, we recommend NFC Tools, compatible with Windows, Mac and Linux.
Being compatible with the PC/SC standard, the ACR1252U can be used with any software that uses this standard, such as this Gemalto tool.
You can find drivers, more libraries, and more information on the supplier's website.
Data sheet
NFC Standard

ISO/IEC: 14443A/B, 18092

Commodity code (HS)

84716099
16 other products in the same category:
Customers who bought this product also bought:
White NFC Tags with NXP NTAG216 chip. Better perfomances. Universal compatibility. Memory of 888 bytes. Waterproof. Password-protectable.
Cable Tie with NFC Tag embedded in flat head, made of Nylon. Totally waterproof. Universal Compatibility. Custom Printing available. You can choose an NTAG21x Chip.
Clear NFC Tags with NXP NTAG213 chip. Wet inlay 26mm diameter. Better perfomances. Universal compatibility. Memory of 144 bytes. Waterproof. Password-protectable.
One of the smallest NFC Stickers, with NTAG213 chip, compatible with all devices, of dimensions only 12 x 19 mm.
Circus Flex's flexible and robust structure allows it to be directly embedded into difficult to tag items, like playing balls, jerseys, jackets or footwear.
A Starter Pack of NFC Tags for application on garments, accessories and clothing. To test the best solution for your needs.
The new NTAG213TT chip supports the "Tag Tamper" feature: it can detect whether a tag has been tampered with and return a different message. Printable with resin ribbon.