UPDATE - NFC ENCODING WITH IPHONE
An unofficial application has recently been released (Oct 18, 2018), which enables iPhone with many NFC functions, including encoding NFC Tags. This application, called NFCWriter X, can be downloaded by Cydia portal and is compatible with iOS 10 and 11, and with iPhone from 6S onwards. The app is $ 3.99 and requires jailbreak.
On 12 September 2018 Apple introduced the new iPhone Xs, iPhone Xs Max and iPhone XR, able to natively read NFC Tags. This means that compared to the previous models 7, 7 Plus, 8, 8 Plus and X, a specific application installed and open to read an NFC Tag is no longer required. In addition, the new 2018 models are able to read the tags in the background, a feature not present in Android. Still, iPhones can't write NFC Tags yet.
A year earlier, on September 19, 2017, Apple introduced the new iOS 11 operating system, containing Core NFC, a package of SDK libraries within iOS 11 that allow reading NFC Tags. By updating to iOS 11, iPhone 7 and 7 Plus can read NFC Tags.
iPhones 6 series and SE are actually equipped with an NFC sensor, but can be used for mobile payments only.
Can iPhone read NFC Tags?
The answer is yes, even if it depends on the model, and with some differences over Android and Windows.
Below is a summary of the state of the art.
iPhone Xs

iPhone Xs Max

iPhone XR

Their NFC sensor can read NFC tags, and manage mobile payments
No specific app is required
They can read NFC tags in the background
Tags must contain an NDEF message

CAN read NFC Tags

iPhone X

Their NFC Sensor can read NFC Tags, and manage mobile payments
However, a dedicated app is required to read Tags
Tags must contain an NDEF message

iPhone 8

iPhone 8 Plus

iPhone 7

iPhone 7 Plus

NFC Sensor can read NFC Tags, and manage mobile payments
Update to iOS 11 required
A dedicated app is required to read Tags
Tags must contain an NDEF message

iPhone 6

iPhone SE

NFC Sensor can be used for payments only

CAN NOT read NFC Tags, without an external reader

iPhone 5 and earlier
Which NFC chips are compatible with the iPhone?
The iPhone (from 7 onwards) are able to read NFC chips like:
NTAG®
ICODE®
MIFARE Classic®
MIFARE Ultralight®
However, we always recommend using NTAG® chips, as they are compatible with all NFC-enabled smartphones and tablets.
NFC and iPhone tags: differences with other operating systems
Apple devices behave a bit differently from Android for what concerns NFC technology.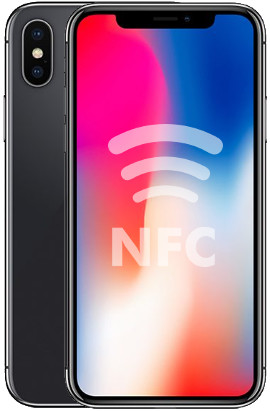 An installed and open app is required
(not required for iPhone Xs, Xs Max, and XR)
An Android smartphone can detect an NFC tag without any particular application installed, as long as the phone is not in standby mode. As for the iPhone, iOS does not have any native support for reading NFC tags and performing actions on the local device. An app must be installed to implement these actions. Additionally, the app must also be open, otherwise Tags will not be detected. One of the apps available for reading Tags with an iPhone is NFC TagInfo by NXP.
NDEF messages only
Another peculiarity of iOS is that it allows you to read only tags that contain an  NDEF message (NFC Data Exchange Format), so to speak, the standard commands defined by the NFC Forum: URL, V-Card, plain text, SMS, email, call. In iOS, unlike Android, there is no "launch application" command (a Tag programmed to open a specific app).
iPhones can't read Tag's UID
With iOS you can not read the Tag's UID. As a result, all those applications that are based on UID reading, such as anti-counterfeiting or access control apps, are not possible with an iPhone, at least for now.
Read, but not write
Finally, it's good to point out that iPhones can read NFC Tags, but can't program them. For programming, you must use an Android smartphone, or a PC with an NFC Encoder. Alternatively, Shop NFC allows you to purchase NFC Tags already encoded.
Our opinion on the future of the NFC
Apple's openness to NFC technology is certainly a huge boost for the Internet of Things (IoT) industry.
The implementation of the NFC sensor in the (now old) iPhone 6, although the features were limited to Apple Pay, had already made the general public aware of this technology, which until then was semi-unknown.
Now, with 3 new iPhone models that can read NFC tags, you can finally spread those NFC solutions related to consumer or marketing use.
On the one hand we have in fact the power of the Apple brand, that has the Midas touch, and its extraordinary power in communication. With the implementation of the NFC in the iPhone, the awareness of this technology makes a big leap forward, allowing the development of new and numerous projects.
On the other hand, we have an important slice of the market, consisting of the owners of an iPhone that, although not the majority of the mobile market, represents a portion of consumers who tend to spend more than an Android user.
These two elements make us believe that the NFC technology, after declining in these years in applications of traceability, logistics, anti-counterfeiting, access control, ticketing, can now find full development in the field of marketing. A field not entirely new to the NFC, but whereas before the Tag was almost always accompanied by a QR, now it can have its own dignity and be exhaustive and transversal, being able to be implemented by all the mobile operating systems in circulation.