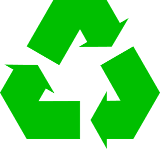 The Shop NFC team is very sensitive to environmental issues. We are committed to reducing our environmental footprint and we do this by improving energy efficiency, using resources responsibly, reducing waste and making business choices to protect the ecosystem in which we live. Below are some examples of our commitment to the environment.
Green shipping
All shipments made with DHL courier are zero-emission.
In September 2019, we decided to implement DHL's GoGreen program while leaving the shipping fees for our customers unchanged.
DHL's GoGreen program is aimed at reducing the environmental impact of each shipment. For all DHL shipments, the compensation of CO2 and other greenhouse gas emissions is also provided, through recognized and certified projects that contribute to improving environmental conditions. Among these: the construction of wind farms, biomass parks, reforestation. For more information, please read here.
With this, we invite our customers to favor DHL over other couriers.
Clean energy
In 2018 we changed our headquarters and chose to use clean, sustainable and environmentally friendly energy for our offices and services.
All our manufacturing processes, printing, programming, logistics, are zero impact for our ecosystem.
Sustainable website
The Shop NFC site is hosted by Google Cloud, a hosting service that uses energy exclusively from renewable sources, with the commitment also to reduce CO2 emissions related to data centers to zero.
For more information on the environmental sustainability of Google Cloud, please read here.