Tamper Proof On-metal NFC Tags NTAG213 45x45mm
As low as 1.19€/pz. for 5000 pieces . Learn more


Tamper-proof NFC white labels, also suitable for metal surfaces. In the event of an attempt to remove it, the tag antenna breaks and the chip stops working.
Volume discounts
| Quantity | Discount | Unit Price |
| --- | --- | --- |
| 50 | 5.58% | 1.69 € |
| 100 | 11.17% | 1.59 € |
| 500 | 27.93% | 1.29 € |
| 5000 | 33.519% | 1.19 € |

Do you need a larger quantity? Did you find this product at a better price? Contact us
This Tamper Proof NFC Sticker can only be applied once. Its antenna breaks when attempting to remove it. This kind of stickers are ideal in contexts where it is important to verify that a product or a machine has not been tampered.
The glue becomes permanent 24 hours after application.
This Tag is equipped with NXP NTAG213 chip, with universal compatibility with NFC-enabled smartphones and tablets.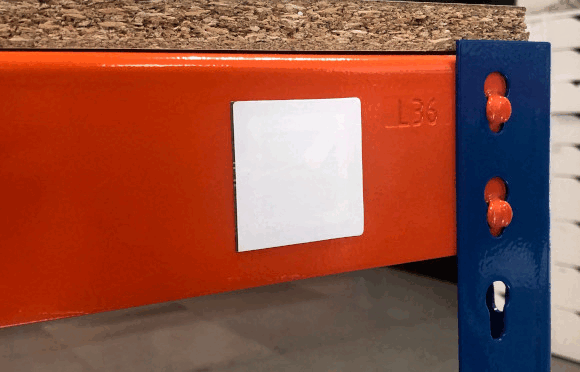 Tamper Proof On-metal NFC Tags Technical Specifications
Integrated Circuit (IC): NXP NTAG213
Air interface protocol: ISO 14443 A
Operation Frequency: 13.56 MHz
Memory: 144  bytes
Operating temperature:  from -20°C to 70°C / from -4°F to 158°F
Peak temperature: +100°C for 1 hr, +80°C for 100 hrs
Dimensions: 45 x 45 x 0.8 mm
Material: Printable white PET
Adhesive: High performance acrylic adhesive
Weight: 2.65 g
NXP NTAG213 Chips support password-protection and other features: see all NTAG21x features
Data sheet
NFC Chip

NXP NTAG213

NFC Standard

ISO/IEC 14443-A

NFC Forum

Type 2

Universal Compatibility

Yes

UID (Unique ID)

7 bytes

Available memory

144 bytes

Communication rate

106 kbit/s

Read/Write endurance

100,000 cycles

Data retention

10 years

Password Protection

Supported

Works on metal

Yes

Waterproof level

Fully Waterproof

Protection class

IP67

Commodity code (HS)

85235200

Country of origin

India
You might also like
Encoding Service for NFC Tags. Please, specify the total number of NFC Tags to be programmed. Add the product to the cart. After completing the order, click here to send the instructions.
Optional service in addition to the purchase of NFC Stickers and NFC Cards. We can quickly print on adhesive Tags on Reel and on PVC Cards, in one color (typically black). info The colors red, green and blue are only available for certain stickers. If in doubt, please contact us before placing your order.After completing the order, click here to submit...
Optional service in addition to the purchase of NFC Tags. We read all the Unique IDs (UID) of the Tags and send you via email.
16 other products in the same category:
Customers who bought this product also bought:
Adhesive NFC tag, with white and printable surface. NTAG213 is compatible with all NFC devices, with 144 bytes of memory. Password protection supported.
NFC Disc made of ABS, very resistant and durable. It's waterproof, anti-metal, and adhesive, with embedded NTAG213 Chip, Universal Compatible.
Circus Flex's flexible and robust structure allows it to be directly embedded into difficult to tag items, like playing balls, jerseys, jackets or footwear.
Square, white, high performance NFC labels, completely waterproof and suitable for industrial applications. Printable with thermal transfer.
NFC Stickers' Starter Pack - 14 TAGS, a mix of NTAG 213, 216 and 210µ, white and transparent stickers. A kit also useful for testing the best chip for your solution.
NFC Tags in PPS with 2 holes. Can withstand disinfectants and washes with industrial detergents, 120°C for 100 consecutive hours, 70 bar for 3 minutes.
Excellent performance, resistance in hostile environments, small size, affordable price. They are the on-metal NFC tags produced by Confidex.
Round NFC Stickers coated with epoxy resin with NFC Logo, can be personalized with your own Artwork. Universal Compatibility. info After completing the order, click here to submit your artwork.