NFC Stickers NTAG424 DNA ø29mm
As low as 0.60€/pz. for 1000 pieces . Learn more


The new NTAG chip raises the security standard of NFC tags thanks to AES-128 encryption and SUN (Secure Unique NFC) message generation.
Volume discounts
| Quantity | Discount | Unit Price |
| --- | --- | --- |
| 50 | 15.73% | 0.92 € |
| 100 | 26.97% | 0.80 € |
| 500 | 38.2% | 0.67 € |
| 1000 | 44.94% | 0.60 € |

Do you need a larger quantity? Did you find this product at a better price? Contact us
info
After completing your order,
click here
to submit the artwork.
White label, round, with a diameter of 29 mm, equipped with NXP NTAG424 DNA chip
The NTAG 424 DNA chip sets a new standard in NFC and secure IoT applications. The new chip generation offers state-of-the-art security and privacy protection features. For this purpose, the chip is made with attack-resistant certified silicon.
The NTAG 424 DNA chip is designed to support operations protected by AES-128 encryption, including a new SUN (Secure Unique NFC message) authentication mechanism, as well as the protection of sensitive data with encrypted access permissions. These features allow advanced product and content protection, as well as secure and unique user experiences in real time.
What is the SUN message
The Secure Unique NFC function generates a unique and secure authentication code whenever the Tag is read. With the SUN function, an NDEF message (readable by any NFC smarpthones) is generated, using an encryption algorithm that includes: URL, UID, counter scan, and AES key.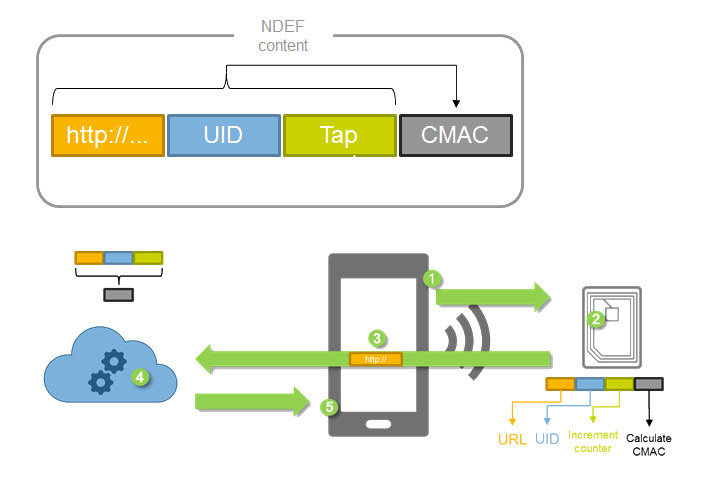 Being also connected to the scan counter, each time the Tag is read, it generates a different string. In this way, the content is protected from cloning.
It is interesting to note that this increase in security is at the same time a simplification of the approach to the end user, which does not need to download any specific application to verify the authenticity of the Tag (and the content linked to it).
How to encode an NTAG 424 DNA
To enable the SUN message, we recommend using the Identiv uTrust 3700 F and TagXplorer software, developed by NXP.
Technical features
Available memory: 256 bytes (for NDEF message)
Adhesive dimensions: 29 mm (diameter)
Operating temperature of the chip: -25°C ÷ 70°C
Storage temperature: -55°C ÷ 125°C
Operating frequency: 13.56 MHz
Applications
Anti-counterfeiting
Secure login
Token generation
Product authenticity
Applications that handle sensitive data
For an animated illustration of how the encryption algorithm that generates the SUN message works, click here
Custom printing
NFC Tags are white.
Black printing (1-2 days) is done with the thermal transfer technique. It is a low quality print, but very resistant and economical. It is normally used for serials, barcodes or QR codes. However, simple logos can also be printed.
Offset printing (5-8 weeks) is carried out with the Offset technique, during the label production process. It offers the best print quality ever. The file for printing must be in CMYK, possibly vector.
Data sheet
NFC Chip

NXP NTAG424 DNA

NFC Standard

ISO/IEC 14443-A

NFC Forum

Type 4

Universal Compatibility

Yes

UID (Unique ID)

7 bytes

Available memory

256 bytes

Communication rate

848 kbit/s

Encryption

AES-128

Read/Write endurance

200,000 cycles

Data retention

50 years

Works on metal

No

Waterproof level

Rain and spray

Protection class

IP54

Commodity code (HS)

85235200

Country of origin

Taiwan
You might also like
Encoding Service for NFC Tags. Please, specify the total number of NFC Tags to be programmed. Add the product to the cart. After completing the order, click here to send the instructions.
Optional service in addition to the purchase of NFC Stickers and NFC Cards. We can quickly print on adhesive Tags on Reel and on PVC Cards, in one color (typically black). info The colors red, green and blue are only available for certain stickers. If in doubt, please contact us before placing your order.After completing the order, click here to submit...
Optional service in addition to the purchase of NFC Tags. We read all the Unique IDs (UID) of the Tags and send you via email.
16 other products in the same category:
Customers who bought this product also bought: